Using a powerful CAD tool as the base engine, QikDraw has developed QikLink, which allows users to Graphically Document, Present, and Manage project information. QikLink in an integrated and inclusive part of the most recent release of QikDraw.

QikLink has the ability to seamlessly link together a vast array of different data types in a compact and easily understandable fashion. It could be construction records, patient data, legal documents, minutes of meetings, photographic records, complex (including three dimensional and animated) drawings, scientific data, zoological data, building records, maps, company and financial data, web links, sound, movie clips … and so on. The quality of the records is not compromised with the ability to record high-resolution photographs and precise vector drawings.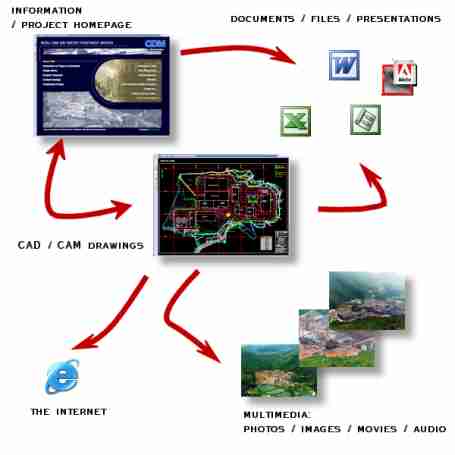 Graphical information such as drawings and photos can be combined with textural information and displayed on a page. "Hot Links" can be set up on any items linking to another page, or request the opening up of documents on any program. There is no limit on the size of the page or the number of pages.

The amount of annotation required is minimized when information is linked together graphically. When an arrowhead on a plan drawing opens up a photo, the location and direction of the photo is automatically documented.

Documents and photos are stored in their original form such that they can be readily amended. Drawings can be easily imported. The QikLink graphical database is very compact. File sizes are minimized.

The completed electronic folder of linked documents can be perused during discussions with colleagues or presented to an audience with dazzling effects.

Most importantly, the documented project can be archived onto a CD-ROM together with the relevant program 'drivers'. The project can then be run up on any Windows computer without need of installation. Each page of drawings and photos can be directly printed when required.

There is no longer the risk of vital information becoming lost.
The development of QikLink stems from the Adelaide University Department of Civil and Environmental Engineering's need to document the construction of their Engineering and Mathematical Science Building, aiming to produce a CD containing an electronic folder of information including drawings and photos.
In April 2003, QikLink won the coveted Consensus Software Award. Citation from a judging panel comprising of leading IT professionals: -

"QikLink is an exceptionally lightweight, flexible documentation and presentation package with almost limitless possibility. The package allows for many document types to be rapidly related with textual and graphical information joined in a highly visual form. Building sites, for example, can be documented 'on the fly' with detailed CAD or survey information compiled with the surveyors notes, council submissions, visual impact, environmental studies etc. Other uses are purely educational and the package can be used as both a teaching and learning tool by students documenting a project, for educational material delivery by teachers/lecturers or as a design training system. It has both professional and amateur use: consulting engineers would find this just as useful as a consultant graphic artist, or service bureau, as any product or project can be presented via a 'walk through' presentation."